Travelling in Wuxi
JU's Campus has an advantageous location which can help students and staff relax and rest in their leisure time. It takes you only 15 minutes by foot to enjoy the picturesque sceneries of Lihu lake and Changguangxi Wetland Park. As well, Wuxi is a tourism city with quite a few tourist attractions and places of historical interests worth our visiting.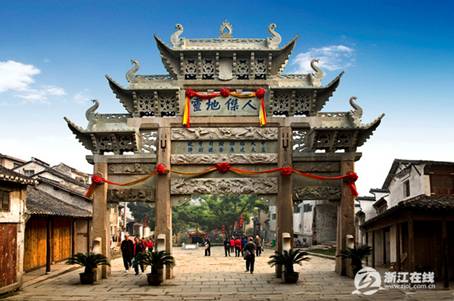 Huishan Ancient Town
Huishan Ancient Town is in the west of Wuxi City, the foot of Huishan Mountain, hence the name. The Beijing-Hangzhou Grand Canal flows through the town by the north. It has a good location, and famous for its majestic nature sceneries, and well-preserved typical ancestral halls.The reserve area of this town is about 103 hectares, stretches 1.7 kilometers from east to west. The core zone is the area between Huishan Temple and Baoshan Bridge. Within this area, many historical relics or ruins can be found, which reveal the long history of this ancient town. Till now, there are 118 ancestral halls and relative remains have been found and protected. Numerous ancestral halls are the spotlights of Huishan Ancient Town. Ten of those ancient buildings became the major national preservation sites since 2006.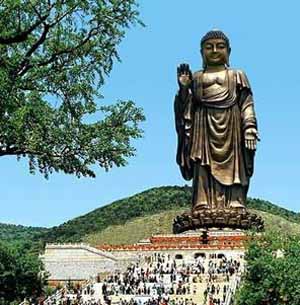 Lingshan Buddhist Scenic Spot
As national AAAAA tourist attractions, Lingshan is a unique and integrated theme park of Buddhism to show achievements of the Buddha, Sakyamuni. The scenic spot is composed of many well-designed tourist attractions including the Grand Buddha with 88 meters in height, Nine Dragons Bathing the Baby Buddha---a group of large-sized dynamic musical sculpture, Lingshan Buddhist Palace --- the site of world Buddhist forum. With powerful inspiration of religious culture, Lingshan has been known far and wide a cultural and religious site to appreciate the Buddhism culture.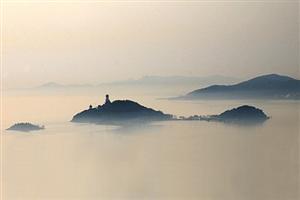 Taihu Fairy Land
Taihu Fairy Islands are a group of famous islands in Taihu Lake. They consist of Islands Daji, Xiaoji, Dongya and Xiya with a total area of 12 hectares. Sanshan Islands look like a divine turtle lying quietly on the water gracefully and elegantly. There are green trees, buildings and pavilions on the islands. Sanshan Taoist Temple built around 3,000 years ago, is the only Taoist temple built on an island in China, well displaying how Chinese traditional Taoist culture turns the island into a wonderland.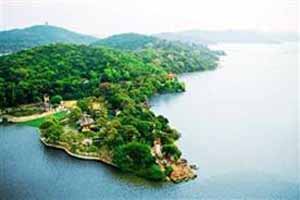 Turtle-Head Peninsula Scenic Spot
Taihu Lake is the third largest fresh water lake in China and also a famous tourist attraction. Located in the northwest shore of Taihu Lake, the Turtle-Head Peninsula gets its name for its huge rocks extending into the lake, looking like a turtle raising its head. It is endowed by nature with green hills and clear water. Tourists call it the best part on Taihu Lake and the best place to enjoy the natural beauty of Taihu Lake.
CCTV Wuxi Film & TV Studio
CCTV Wuxi Film & TV Studio is the first large-scaled base for movie and TV shooting and for tourism built in China. Constructed in 1987, it is the nation's first theme park incorporating movie and TV culture and tourism and is also one of the nation's first batch of 5A grade tourist scenic areas. With its unique functionality and charms it has been attracting nearly one hundred movie/TV production units every year to shoot over 1000 movies and TV plays here, while at the same time over 2 million people come here each year as tourists and to explore the secrets of movie production.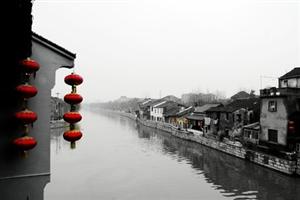 Old Grand Canal
The Grand Canal is the wonder of China that has the equal historical status with the Great Wall dating back to more than 2,500 years ago. The ancient Grand Canal passes Wuxi, the north section ends to Changjiang River and south to Taihu Lake. The Canal has deeply influenced the daily life of local people in Wuxi. Comprising of more than 40 kilometers, this scenic canal passes through the entire district of Wuxi. The canal reflects the beautiful water village scenery that ranges from Wuqiao to Xishuidun and from Nanmen to Qingming Bridge.
Xihui Park
Located in the west of Wuxi City, Xihui Park has tourist area of 68.7 hectares and can host 2,000,000 domestic and foreign tourists annually. There are eighteen major historical and cultural sites under state, provincial or municipal protection, including No.2 Fountain under Heaven of Tang Dynasty, Jichang Park of Ming Dynasty and Foolish Old Man Valley. In this park, Xishan Mountain and Huishan Mountain are separated by lake. Longguang Pagoda-the token of Wuxi City stands at the top of Xishan Mountain. As you tour in this park, you cannot only enjoy the sight of beautiful scenery, but also make knowledge of history as this park enjoys the reputation as "outdoors museum" of Wuxi City.